---
-30 Days Free Return & Exchange
-Warranty on all products
-Free Worldwide Shipping
---
Introducing another member of our Evolve Family, Yocan Evolve C Vaporizer! It is an instant heat-up dab pen that offers extreme flexibility. This pen comes with 2 different atomizers: CBD atomizer and wax atomizer. The CBD atomizer was built with a window to let you easily check your oil level and know when you need to reload. Yocan Evolve C Vaporizer was also designed with an auto-shutoff feature to help you preserve your battery especially when you are on a travel. This also ensures your safety as it keeps your device from overheating
With a very stealthy design combined with its user-friendly features, this wax pen makes a perfect travel buddy. If you want to enjoy a hassle-free vaporization, this pen is great for you no matter where you go.  
The Yocan Evolve C dab pen is perfect for people who like to mix it up, the two atomizer options make the Yocan Evolve C a versatile choice for individuals who enjoy various kinds of materials as the Yocan Evolve C lets you swap atomizers easily for convenient removal and replacement of the atomizers. Switching from wax to essential oils? Don't worry, the Yocan Evolve C has got you covered. Both the atomizers feature a leak-proof design which allows you to enjoy seamless vaping without having to brood over getting stains on your clothes, bags, or wherever you might be keeping your Yocan Evolve C.  
Most Yocan Evolve C review will emphasize its long-lasting battery that gives you power for more than just your average vaping sessions. Moreover, this dab pen owes its vapor production to the power the battery is capable of delivering. Depending on how frequent you take your hits and how long you drag your draws, the Yocan Evolve C Battery will last you an average of 3 to 6 hours of use. The robust 650mAh battery on the Yocan Evolve C has been the staple in most Yocan Evolve wax pens, the same battery that powered the original Yocan Evolve can be found in the upgraded Evolve C version. You'll never find a more reliable and durable battery on the market.  
The Evolve C dab pen battery isn't only long-lasting but it's also easy and straightforward to use. Using the Evolve C battery comes as natural as breathing. Five clicks turn the battery on and five more clicks turn it off. The Evolve C battery is 510 threaded which allows you to choose between a wide variety of atomizers that have similar 510 threads and are compatible with the Evolve battery, although to enjoy the definitive Yocan experience, it is recommended that you use the inclusive Evolve C atomizers. 
The atomizers on the Yocan Evolve C Vaporizer are designed and engineered for the optimal environment for concentrate vaporization. The Evolve C kit includes a 1.8-ohm oil atomizer that can be filled with your favorite essential oils. It features a leak-proof design which allows you to enjoy your extracts without the worries of having stains and smears on your clothes as well as smudges and splatters inside your bags or on your pouches. The Evolve C Vaporizer also uses a 1.0-ohm quartz rod atomizer for concentrates which.  
The Yocan Evolve C Vaporizer lets you enjoy quality vaping sessions without having to sacrifice affordability. Get one now!
Features : 
Clean and tasty vapor hits! long lasting Battery, and Reaches Optimal Temperature for all uses in seconds.

No tar and other cancer causing substances. No second-hand smoke and environmental protection. Discreet in public, and  perfect size will fit in all pockets (Extremely Portable)

No odor smell to stink up your clothes, house, or car. Works with wax, concentrates, oil, extracts, BHO(ONLY FOR LEGAL USE)

No stain on teeth or causes bad breath. Releases minimum to no smell perfect for both indoors and outdoors. 600 Puffs per charge! The Best Handheld Electronic Pipe / Dab Vape In The Market.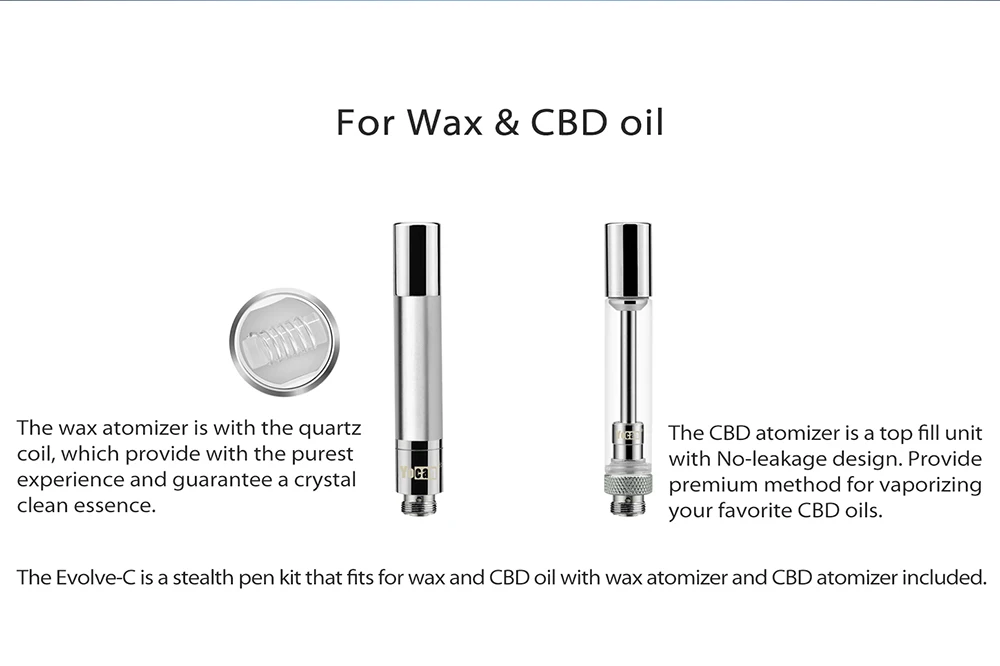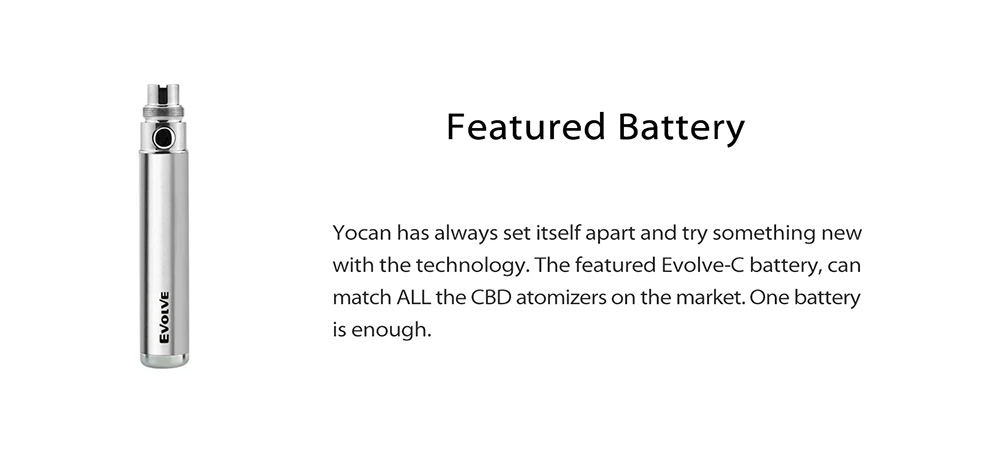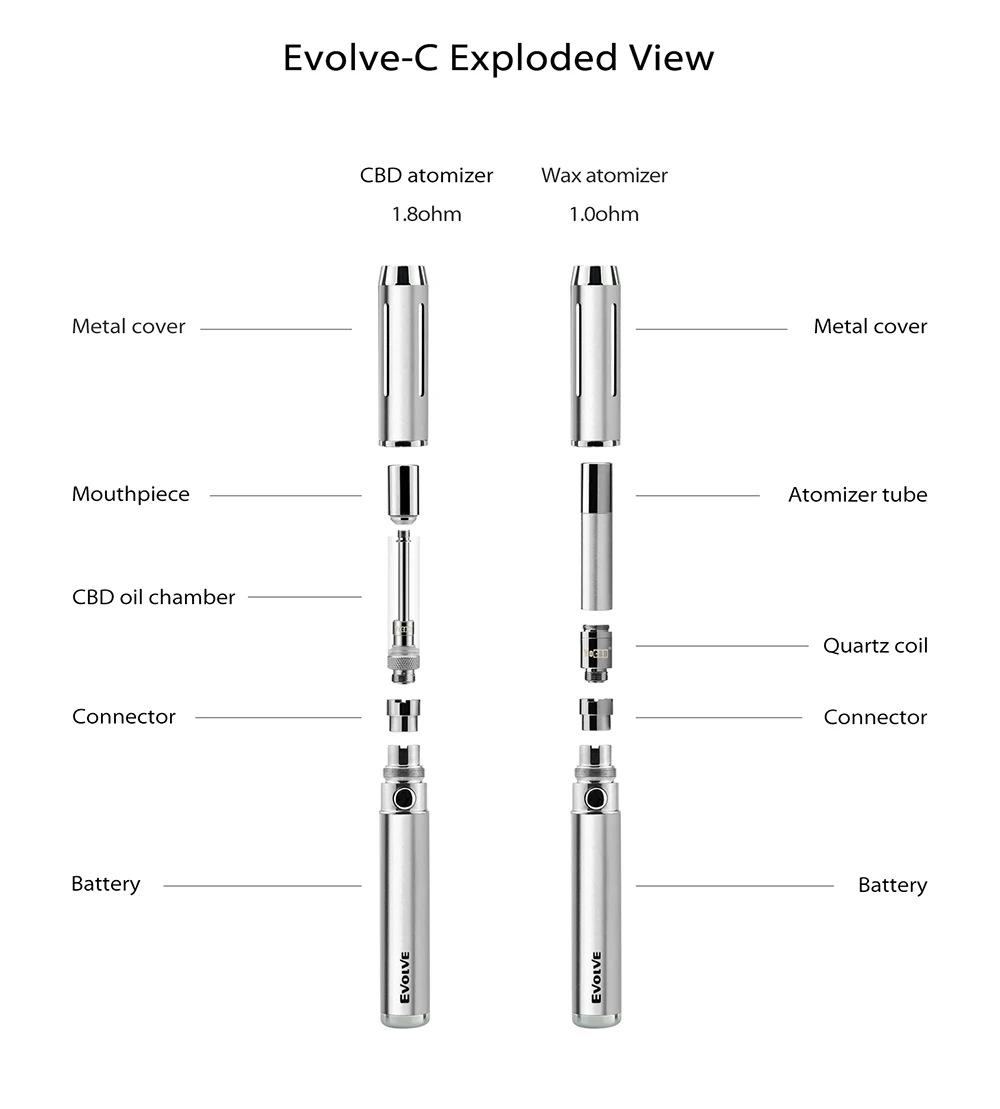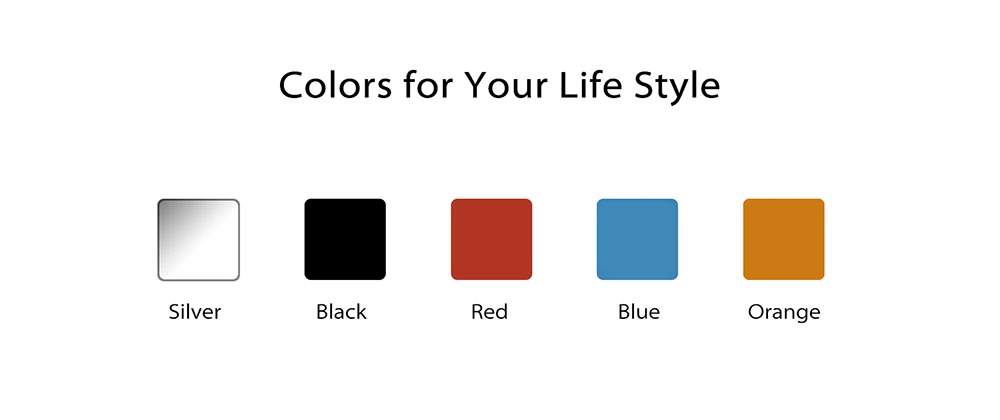 Package:
1* Metal cover
1* Wax atomzier 
1* CBD atomzier
1* Battery
1* USB line
1* Small tool
Heating :
10/10 - The oven heats up to the maximum temperature (220°C/420°F) in just 60 seconds, perfect for a quick session indoors or outdoors. 
Discreetness :
8/10 - Looks like any other high-end e-cig vape, not easily detected in public, and releases minimum to no odor.
Portability :
8/10 -  Will fit in most bigger pockets, and easy for on the go.
Unhappy With Your Product? We stand by our products and your satisfaction is guaranteed. Full refund no matter what. No questions asked. Simply email us at support@cloud9city.com
---